The two main parts of Crop Plants are the shoot and the root. The shoot consists of all parts of the plant above the ground, which include the leaves, stem, branches, buds, flowers and fruits, while the root is the part of the plant below the ground.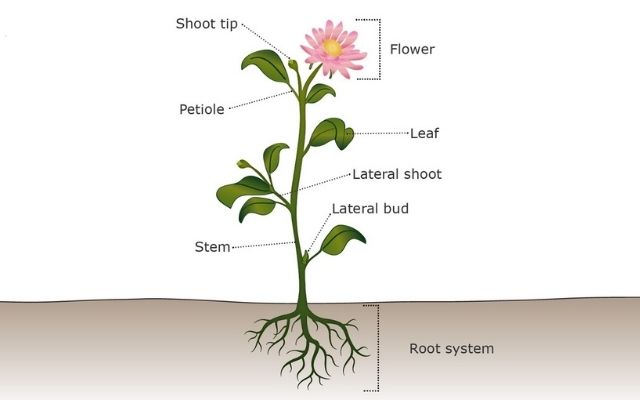 The organs of the plant can be divided into two:
a. Vegetative organs, and
b. Reproductive organs.
The vegetative parts of a plant are the root, stem and leaves, while the reproductive parts are the flowers and fruits.
Root System:
The functions of roots are to, anchor the plant to the soil, and absorb mineral water and mineral salts from the soil. In some plants, they serve as storage organs, for example, onions, potatoes and cassava.
There are two types of root systems;
a. Tap-root system
b. Fibrous root system.
In a tap root system, there is one major root from which various branches or lateral roots arise. A fibrous root system consists of similar fine roots all of which grow from the base of the plant stem.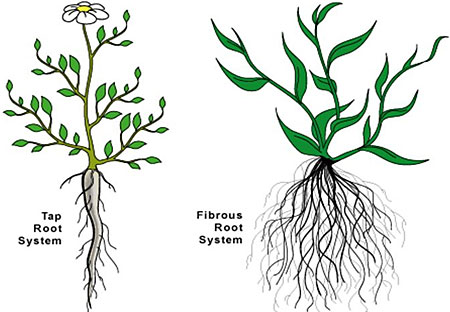 Stem:
The stem bears the leaves, buds, flowers and fruits. Its functions include support to the leaves, flowers and fruits. It also transports water and nutrients from the soil and sugar from the leaves.
Leaves:
A typical leaf consists of a stalk called a petiole and a blade called the lamina. They contain a very special substance called chlorophyll, which helps in manufacturing food for plants in the presence of sunlight, through a process called photosynthesisPhotosynthesis is the process by which green plants, and some algae and bacteria, convert the energy of sunlight into chemical energy. This energy is then used to synthesize carbohydrates such as sugars from carbon dioxide and water; these carbohydrates are stored as food, and the energy within them is later released to fuel metabolic activities. Organisms that perform photosynthesis are called autotrophs..
Flower:
The flower is the reproductive part of flowering plants. it is the region where the male and female organs produce the pollen grain and ovary respectively.