Soil pollution is defined as the presence of toxic chemicals (pollutants or contaminants) in soil, in high amounts or concentrations, to pose a risk to human health and or the ecosystem. Soil is a vital part of life on earth. Without good soil, we would not be able to grow food. The farmer plows the soil before planting crops. People today generate a lot of waste from all the products they use. Much of this garbage is dumped in landfills or burnt. Sometimes, these methods pollute the surrounding air, soil, and water.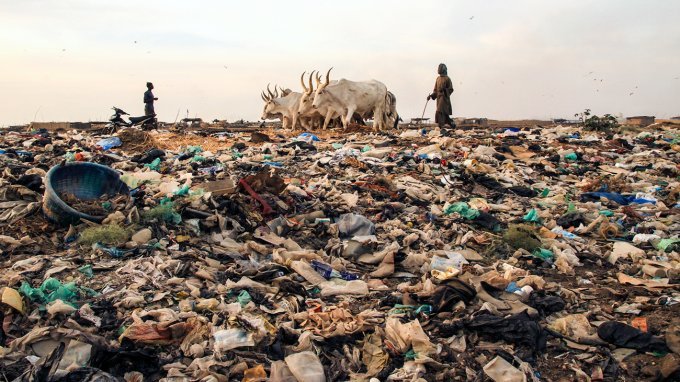 Sources of Soil Pollution:
Soil pollutants are the waste materials that affect the quality of our soil.
These are:
1. Agricultural Pollutants: When farmers clear land for growing crops, the soil is exposed to the weather. In a drier climate, the soil dries out and the wind easily carries it away. Also, in areas where the soil is exposed to rapidly flowing water, large amounts of soil can be carried away quickly. It also includes the excessive use of fertilizers, pesticides, and herbicides.
2. Chemical pollutants: These are industrial wastes and chemicals deposited on the soil, such as lead compounds, fertilizers, pesticides, etc. These are harmful to the soil when they are in excess.
3. Non-biodegradable materials: These are materials that are not capable of being broken down by the action of living things. They are dangerous to the soil e.g plastics, nylon, bottles, etc.
4. Irrigation: In a very dry land, irrigation can poison the soil, by dissolving the salt which is left after water evaporation on the topsoil. Most plants cannot grow in topsoil that contains too much salt.