Foreign Trade | Import, Export and Entrepot Trade
Foreign trade is the type of trade that involves two or more countries trading together.
For example, Nigeria and the USA, Ghana and Togo, Britain and Germany, etc. For instance, if Nigeria takes crude oil to the USA, or if Italy takes leather shoes to Liberia for sale. Foreign trade is also known as International trade.
Foreign trade can be further divided into three as shown below: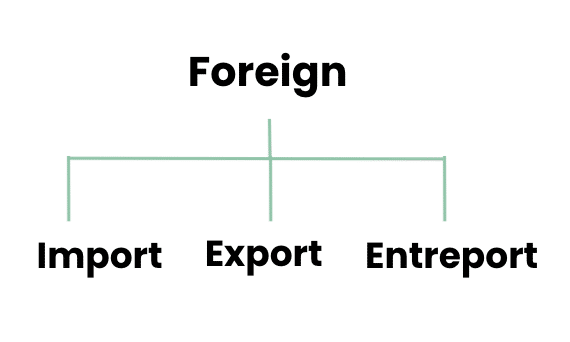 Import:
Import involves bringing goods produced in other countries into our own country. For example, Nigeria usually buys goods such as motor cars from Germany, Electronics from Japan, Computers from America, etc.
Export:
Export involves selling locally produced goods and services to other countries in need of them. Nigeria derives most of its foreign exchange revenue from the export of crude oil, tin, and other farm produce, such as timber, cocoa, cotton, palm produce, groundnuts, etc, to other countries.
Entrepot:
Entrepot is the re-exporting of goods already imported into a country. If goods already imported into a country are exported to another country for sale, it is called entrepot. For instance, if an importer in Nigeria should import shoes, from Italy to Nigeria, and later decide to take them to Ghana for sale, to earn foreign exchange, or because they can be sold at a higher price, such a transaction is called entrepot.