The atmosphere is comprised of layers based on temperature. These layers include the troposphere, stratosphere, mesosphere, and thermosphere. A further region at about 500 km above the Earth's surface is called the exosphere.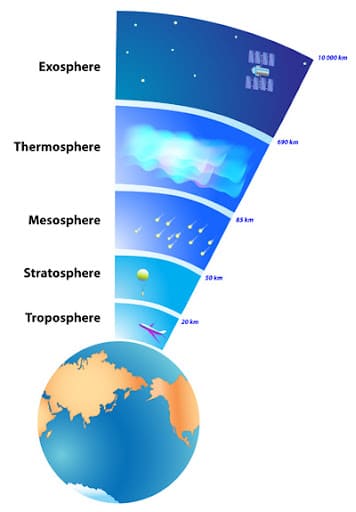 The ozone layer, 15 to 30 km above the earth's surface, is located in the lower stratosphere, which is the second layer of the earth's atmosphere. The stratosphere starts just above the troposphere and extends to 50 kilometres (31 miles) high, with its highest concentration at about 25km above the ground.
The stratosphere is the mass of protective gases clinging to our planet.
Like a sponge, the ozone layer absorbs bits of radiation hitting Earth from the sun. Too much radiation can damage living things, although we need some of the sun's radiation to live.
The ozone layer acts as a shield for life on Earth.
Natural Production of Ozone:
When there is ultraviolet radiation from the sun and it strikes oxygen molecules (O2), the oxygen molecules absorb the high-energy protons and split into two O atoms. The highly reactive oxygen (O) atoms combine with unbroken oxygen molecules (O2) to form ozone (O3)
O2 + Uv Light → O + O.
O2 + O → O3 (Ozone)
Importance of Ozone Layer:
1. The ozone layer of the atmosphere protects life on Earth, by absorbing ultraviolet rays from the sun.
2. It brings a cooling effect to the atmosphere and the earth's surface. 
3. It prevents health hazards like sunburn and skin cancer.