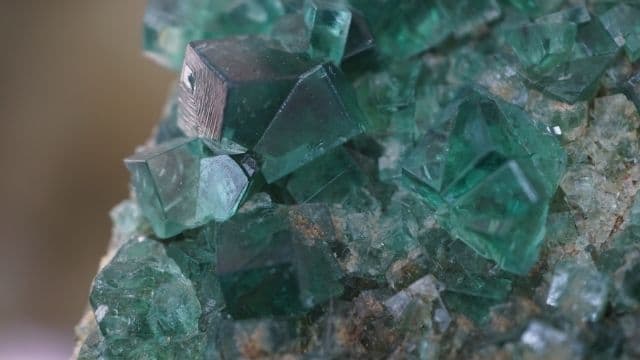 What are Mineral Resources?
Mineral resources are substances that are naturally present, in the earth's crust, and are not formed from animal or vegetable matter. Examples are gold, salt, tin, iron ore, copper, aluminium, etc.
Minerals can exist as solids or non-solids or a combination of both. Here we will be studying minerals that exist in the solid state which are called Solid Minerals.
Solid minerals have been found deposited, in some parts of Nigeria, in commercial quantities, and they are of valuable use to man.
Nigeria is a country blessed with an abundance of mineral resources; according to the Federal Ministry of Solid Minerals, there is no state in Nigeria without at least two types of solid minerals, with states such as Nasarawa and Plateau topping the list, with 29 types of solid minerals each.
The tables below show the location of solid minerals and their uses;


Solid Minerals
Location in Nigeria
1.
Limestone (CaCo3)
Ewekoro (Ogun State), Nkalagu (Ebonyi State),
Ukpilla (Edo State), Ondo, Imo, Akwa Ibom,
Bayelsa, Anambra.
2.
Tin
Plateau, Bauchi.
3.
Iron ore
Plateau, Kogi, Edo, Anambra, Sokoto,
Benue, Borno, Delta.
4.
Coal
Enugu, Benue, Ondo, Kogi,
Plateau, Zamfara.
5.
Gold (Au)
Osun, Oyo, Kaduna, Plateau, Abuja, Abia.
6.
Bitumen
Ondo, Lagos, Ogun, Ondo, Edo, Imo.
7.
Lead (Pb)
Cross River, Ebonyi, Enugu, Abuja.
8.
Zinc (Zn)
Abia, Anambra, Akwa Ibom, Enugu, Niger.
9.
Kaolin
Kogi, Katsina, Edo, Delts, Ekiti, Oyo, Ondo, Plateau.
10.
Copper(Cu)
Jos (Plateau state), Taraba, Kogi, Nasarawa, Zamfara,
Bauchi, Gombe, Kano.
11.
Salt
Abakalik, Plateau, Anambra, Abia, Akwa-Ibom,
Katsina, Cross-river.
12.
Glass sand
Ughella–Delta State, Igbokoda, Ondo State,
Baure, Katsina, Badagry, Lagos.
13.
Columbite
Kwara, Osun, Nasarawa.
14.
Marble
Edo, Benue, Kogi, Kwara, Oyo, Delta.
Uses of Solid Minerals:


Solid Minerals
Uses
1.
Limestone (CaCo3)
For making cement and concrete used in building houses.
2.
Tin
Used for casting iron, canning industries.
3.
Iron ore
For making iron and steel for construction.
4.
Coal
Used as a source of fuel and for generating electricity.
5.
Gold (Au)
For making pieces of jewelry and artifacts.
6.
Bitumen
For road construction.
7.
Lead (Pb)
For making car batteries and insulators for cables.
8.
Zinc (Zn)
For making roofing sheets.
9.
Kaolin
For making porcelain, pottery, stoneware, etc.
10.
Glass Sand
For making Glass.
11.
Salt
For Food.
12.
Marble
Used principally for statutory and building purposes.
13.
Granite
It is an important building stone.
14.
Columbite
A principal commercial source of niobium.
Niobium, Nb, is used in alloys for improved strength.
15.
Copper
Used in making ornaments, pots, cables, etc.
Environmental Effects of Mineral Exploitation:
1. Environmental pollution.
2. Soil erosion.
3. Loss of plants and animals.
4. Production in land available for crop production.
5. Land degradation.
Importance of Solid Minerals:
1. Employment generation.
2. Source of foreign exchange earnings.
3. Raw materials for industries.
4. Growth of towns.
5. Infrastructural developments, for example, road construction, etc.
6. Provision of essential goods.
7. Source of fuel, for example, coal.
8. Makes life easier: Minerals help us by contributing to the daily items we use, including furniture and decorative materials, making our living environment more pleasant.
Evaluation Questions
List four resources obtained from plants
What is meant by solid mineral resources?
Mention four uses of soil to human beings
List 2 economic importance of resources to human beings.