Series Arrangement of Resistors
Resistors are said to be in series if they are connected end to end such that the same current passes through them but they have a different potential difference.
Let's say that there are three light bulbs (resistors) connected together in series. Series connection means that the same current will pass through each light bulb consecutively.
The combined or equivalent resistance of a number of resistors in series is equal to the sum of their individual resistances.
R = R1 + R2 + R3 + ………… + Rn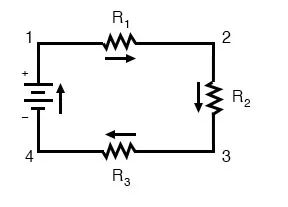 Here, we have three resistors R1, R2, and R3 connected in a long chain from one terminal of the battery to the other.
There is only one path for the current to flow. In this circuit, the current flows in a clockwise direction, from point 1 to point 2 to point 3 to point 4 and back around to 1.