Defects are faults or irregularities in wood, caused either naturally or during the processing of the wood, which reduces the value or quality of the timber. Defects in timber can be Natural or Artificial.
Natural defects:
This is a result of faults, or problems, that occur during the plantation period of timber, which later affect the durability, strength, quality, and market value of timber.
There are different types and they include;
1. Knots:
A knot is a defect that occurs at the branch of a tree. If a branch falls from a tree it may leave a knothole on the tree.
2. Shakes:
This is the complete separation of parts of a stem in a living tree. it occurs because of stress variation in the stem. There is the ring shake, cup shake, star shake, and heart shake.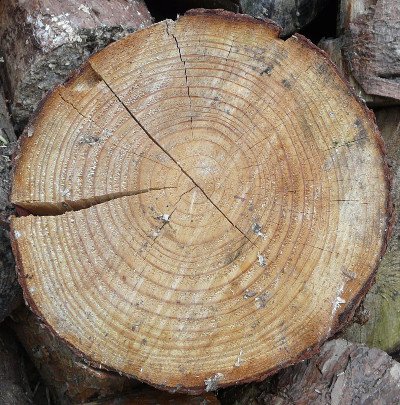 a. Ring Shake: is a separation or crack within the wood that runs parallel to the rings, rather than across the rings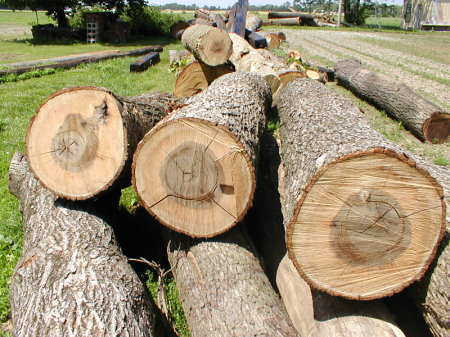 b. Heart shakes: These are cracks that occur in the heartwood, near the centre of the tree. It is caused by poor seasoning, or by using trees felled past maturity.
c. Star shakes: These are splits which occur in the wood and give a star-shaped appearance on the log of the wood. The cause is often rapid or uneven seasoning, causing the outside of the log to shrink faster than the heart.
d. Cup shakes: These are splits which are similar to ring shakes but they only go partway around the rings.
e. Frost shakes: Frost shake begins on the outside where moisture from rain or other means has penetrated, and freezes, causing damage to the wood on the inside.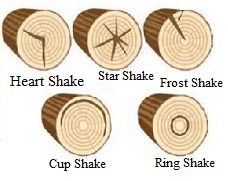 3. Cross-grain:
Cross-grain is a very common defect in timber. This is when wood fibre doesn't grow parallel to the wood axis.
Artificial Defects:
These are the problem caused by careless handling and faulty seasoning and preservation of wood. The common artificial defects in timber are:
1. Bow: This is when a plank curves inward or outward along the length. It is commonly found in plain sawn planks.
2. Crook: This is edgewise curving of a board caused by uneven shrinking.
3. Twist: This is when a plank forms a spiral shape. It is caused by improper regulation of the conditions inside the kiln, during seasoning. It is common in plain sawn planks.
4. Splits & Check: This is the separation of wood along the grain of a board.
5. Cup: This is a concave curve across the face of the timber. It is caused by bad stacking and shrinkage during drying. It is also common in plain sawn planks.
6. Insect attack: This is when the wood plank is being affected by insects like beetles, termites, etc. The insects create crevices or holes in wood.