Procedures for Preparing Bills, Invoices, and Receipts
Bill:
When goods are supplied or services rendered, the customer is expected to make payment. Before payment is made, the customer is given a bill, to indicate the amount he owes, for the goods supplied or services rendered.
A bill is a written statement of charges for goods supplied or services rendered.
In preparing a bill, all the charges to be paid are listed, by the various sections of the establishment or department, from where the final bill is written out. For example, in preparing a bill for goods supplied, the Sales Department will list out the goods supplied, the amount to be paid, the service or handling charges to be added, etc.
When these figures are forwarded to the Accounts Department, other charges such as Value Added Tax, VAT, trade discount, and cash discount allowed, will be included before arriving at the final amount payable by the customer.
Some of the office equipment commonly used for the preparation of bills and invoices are:
1. Computer software.
2. Typewriter.         
3. Adding machine.
4. Cash register machine.
5. Calculator.
6. Photocopier.
Invoice:
This is a bill issued by the seller when goods are sold to customers. This bill or invoice shows the quantity, description of the goods, unit price, amount, and terms of sales.
From the invoice, the following can be extracted:
1. Name and Address of the seller/supplier.
2. Name and address of the buyers /customers.
3. The date of the transaction.
4. The serial number of the invoice.
5. The quantity of goods supplied.
6. The description of goods supplied.
7. The unit price of goods.
8. The total amount of goods supplied.
9. The terms of sales.
10. Signature of the customer and supplier.
A Receipt:
A receipt is a business document normally issued to a customer, to serve as evidence of payment. It is legal proof of payment.
The process of preparing a bill sometimes requires the collection and calculation of figures, by different people in different sections of the supplier's organization, before arriving at the actual amount payable.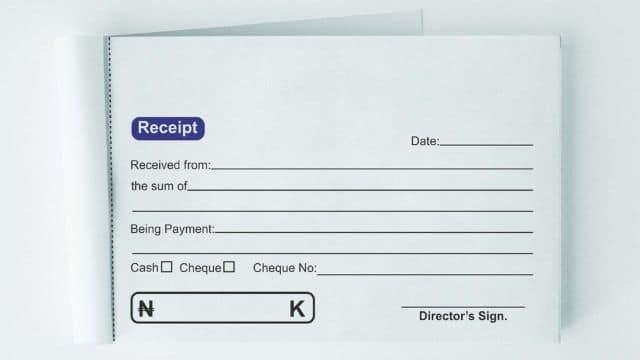 Errors and fraud are sometimes committed in the process. Therefore, whenever a bill is received, it should be cross-checked with the order, to ensure that it complies with the organization's order.