Phylum Annelida (Segmented Worms)
Annelids are commonly known as segmented or ringed worms.
Characteristics of Phylum Annelida:
Phylum Annelida has the following Characteristics;
1. They are mostly aquatic, though some live in damp soil (terrestrial). A few are parasites.
2. They are of economic importance to man because earthworms create tunnels in the soil by burrowing, which aerates the soil to allow air, water and nutrients to reach deep within the soil. This enriches and improves soil for plants, animals
3. They have segmented bodies made up of separate units called segments. The segmentation is both internal and external and some of the internal organs are repeated along the length of the body.
4. There are coelomates (body cavity present): They have a large fluid-filled body cavity or coelom (body cavity) surrounded by the mesoderm, permitting internal organs to slide easily against one another, making effective body movement possible.
The coelom is the main body cavity in most animals and is positioned inside the body to surround and contain the digestive tract and other organs.

5. They are triploblastic.
6. Their bodies are long and cylindrical.
7. They are bilaterally symmetrical.
8. They exhibit organ-level organization.
9. They respire through their body surface or skin.
10. Their excretory organ is the nephridia.
11. They have a well-developed circulatory and digestive system.
12. Their body contains haemoglobin, which gives them a red colour.
13. Regeneration is a very common characteristic of the Annelids.
14. They move with the aid of setae. (The appendages are called setae and not joints)
15. Most of the Annelids are hermaphrodites, i.e. male and female organs are present in the same body. They reproduce both sexually and asexually. There may be male and female individuals.
16. The clitellum is part of the reproductive system of earthworms. The clitellum is a thick, saddle-like ring found in the epidermis (skin) of the worm. It secretes a viscous fluid to form a cocoon for its eggs. The clitellum is only found in mature earthworms.
In order to mate, the worms line up so that the clitellum of each worm is near the gamete-producing, sexual organs of the other worm. The worms then exchange sperm. Once the cocoon is ready, they deposit their eggs and sperm, stored from the mating process, into the cocoon where fertilization takes place.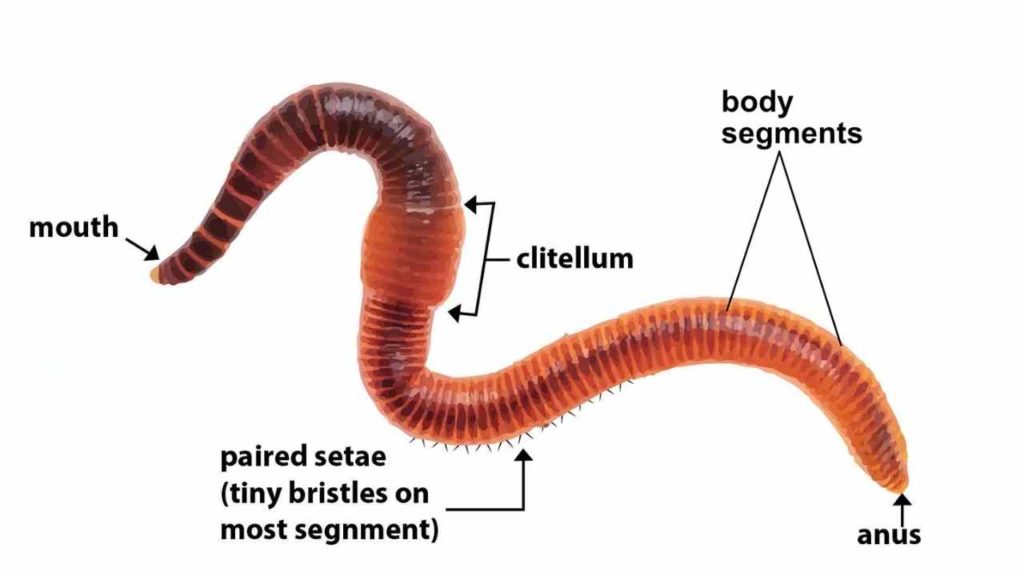 17. Examples of Phylum Annelida are Earthworms (Lumbricus terrestris), Leeches, and Nereis.
Classification of Phylum Annelida:
Annelida is classified into the following:
a. Polychaeta e.g. Nereis
b. Oligochaeta e.g. Earthworm
c. Hirudinea e.g. Leech