Phylum Coelenterata (Cnidaria)
Characteristics of Phylum Coelenterata:
1. They are mostly aquatic organisms.
2. They are diploblastic organisms i.e they have two distinct body layers (ectoderm and endoderm) separated by a mesogloea.
3. They exhibit tissue level of organization.
4. They are radially symmetrical. 
5. They have only one body cavity called enteron or gut (gastrovascular cavity) with only one opening, the mouth, and no anus. The mouth also serves as an anus.
6. They have tentacles surrounding the mouth. 
7. They also possess stinging cells called nematocysts, found on the tentacles, used for capturing their prey.
8. Digestion is both intracellular and extracellular.
9. They lack nervous and circulatory systems.
10. They reproduce asexually through budding. Sexually, they are hermaphrodites. The sexual mode of reproduction is seen only in a few Coelenterates.
11. They exhibit polymorphism i.e. they exist in two structural forms, polyp and medusa. The medusa is umbrella-shaped and motile e.g. Jellyfish, while the polyp is cylindrical and sessile e.g. Hydra and Sea-anemone.
12. The polyp and the medusa may alternate in the life cycle of some Coelenterates (Cnidarians).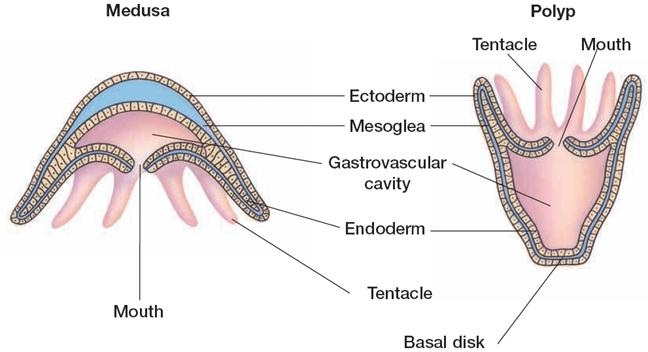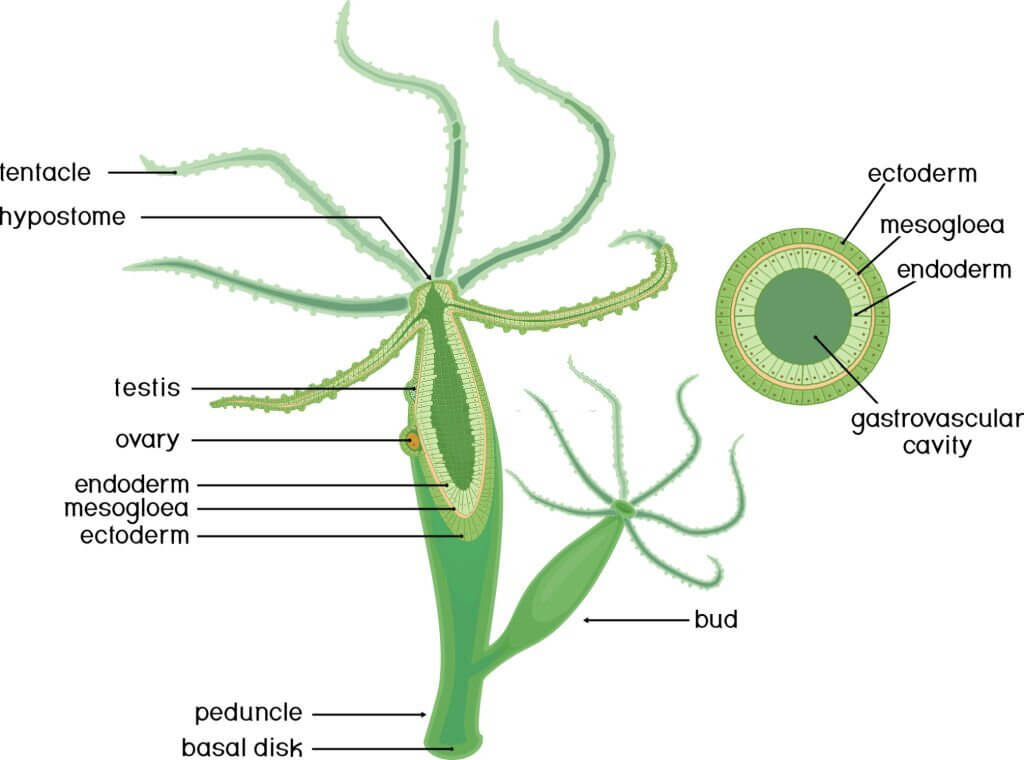 13. Live in colonies (corals) as well as solitary (Sea anemone).
14. Examples of Phylum Coelenterata are Hydra, Obelia, Jellyfish, Sea anemone, and corals.
Classification of Phylum Coelenterata:
Coelenterates are classified into three different classes:
a. Hydrozoa e.g. Hydra
b. Scyphozoa e.g. Jellyfish
c. Anthozoa e.g. Sea Anemone