Phylum (Division) Bryophyta
Bryophytes are non-vascular moss plants that you mostly find growing on rocks near ponds, streams or bodies of water.
Habitat: Found in moist habitats on land such as damp places, near streams or ponds, tree trunks, shady places e.t.c.
Bryophyta includes mosses, hornworts and liverworts.
Characteristics of Bryophytes:
1. They do not have a vascular system and are therefore unable to transport food and materials around the body.
2. They do not possess roots, instead they are anchored to the ground by rhizoids.
3. They possess chlorophyll and carry out photosynthesis.
4. They are terrestrial plants but are known as "amphibians of the plant kingdom" as they require water for sexual reproduction.
5. Bryophytes show alternation of generation (the gametophyte and sporophyte generation). The gametophyte is the persistent generation. The gametophyte produces motile male gametes (spermatozoa) and non-motile female gametes (ova). Water is needed for the fertilization of the egg or ovum which grows on the gametophyte into a sporophyte. The flagellated sperm swim to the non-motile egg in order to fertilise it.
The sporophyte produces spores that are dispersed, and in a suitable moist environment, they develop into young gametophyte plants of separate sex. The male gametophyte plant releases sperms while the female gametophyte plant releases eggs, and fertilisation takes place on the female gametophyte plant to form a new sporophyte.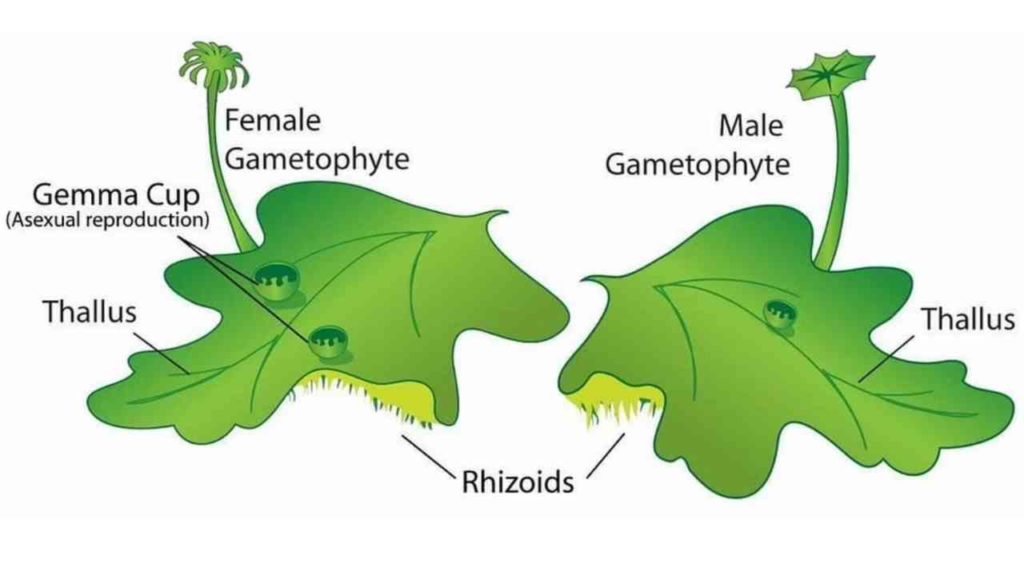 6. Asexual reproduction is by means of spores while sexual reproduction is by means of gametes. (or Sporophytes reproduce asexually, Gametophytes produce sexually.)
7. Some of the common examples are Marchantia, Funaria, Sphagnum, Antheoceros, etc.
Classes of Bryophyta:
Bryophyta can be classified into;
(a.) Musci (Mosses)
(b.) Hepaticae (Liverworts)
a. Class Musci (Mosses):
External features of a Funaria (Moss):
1. The plant is small and erect about 1cm in height.
2. Structures consist of rhizoids (the root-like structures) and simple sessile leaves (leaf-like structures)
3. Leaves are green and one cell thick.
4. They show distinct alternation of generation
5. The sporophyte generation bears a structure called sporogonium which consists of one seta (stalk) and a pear-shaped capsule.
6. The capsule contains spores which are released at maturity to give rise to the gametophyte generation.
7. The sporophyte plant is attached to the gametophyte.
8. Examples include;
Moss Funaria
Moss Brachymemium
Moss Bryum argenteum
Moss Polytrichum
b. Class Hepaticae (Liverwort):
Characteristics of Liverworts:
1. They are more simple and more primitive than moss.
2. The plant's body consists of a flat ribbon-like thallus which lies on the ground under it.
3. Under the thallus are small root-like structures called the rhizoids which attach it to the ground.
4. Reproduction is sexual and asexual. In asexual reproduction, they produce gemma which is a ball of cells which become dethatched from the parent plant when matured.
5. Examples are Marchantia, Anthoceros, and Riccia.