Phylum or Division Thallophyta (Algae)
Characteristics of Thallopytha:
1. They are simple plants without, stems, roots and leaves.
2. They are non-vascular.
3. They are autotrophic due to the presence of chlorophyll but some have blue, yellow, brown or red pigment which masks the chlorophyll.
4. The plant body is thallus, they may be filamentous, colonial, branched or unbranched.
5. Most are unicellular e.g. Chlamydomonas while few are multicellular e.g Spirogyra which is filamentous and Volvox which is a colonial alga.
6. They are mainly aquatic with a few growing on damp soil in shady places.
7. They have no specialized reproductive organs but can exhibit both sexual and asexual means of reproduction.
8. Common examples are Volvox, Fucus, Spirogyra, Chara, Polysiphonia, Ulothrix, etc.
Classes of Thallopyta:
This group can be further divided into three main classes;
a. Chlorophyta (green algae)
b. Phaeophyceae (brown algae)
c. Rhodophyceae (red algae)
a. Class Chlorophyceae (Green Algae):
They are green in colour because they contain chlorophyll.
Characteristics:
1. They are aquatic and found in freshwater.
2. Most members have storage bodies called pyrenoids located in the chloroplast. (pyrenoids contain protein besides starch).
3. Reproduction is by fission or fragmentation (asexual) or conjugation (sexual) e.g. In Spirogyra reproduction occurs by simple fragmentation or conjugation and In Chlamydomonas, multiple fission.
4. They are simple plants without stems, roots or leaves.
5. Examples are Chlamydomonas, Spirogyra, Volvox, Chlorella, etc.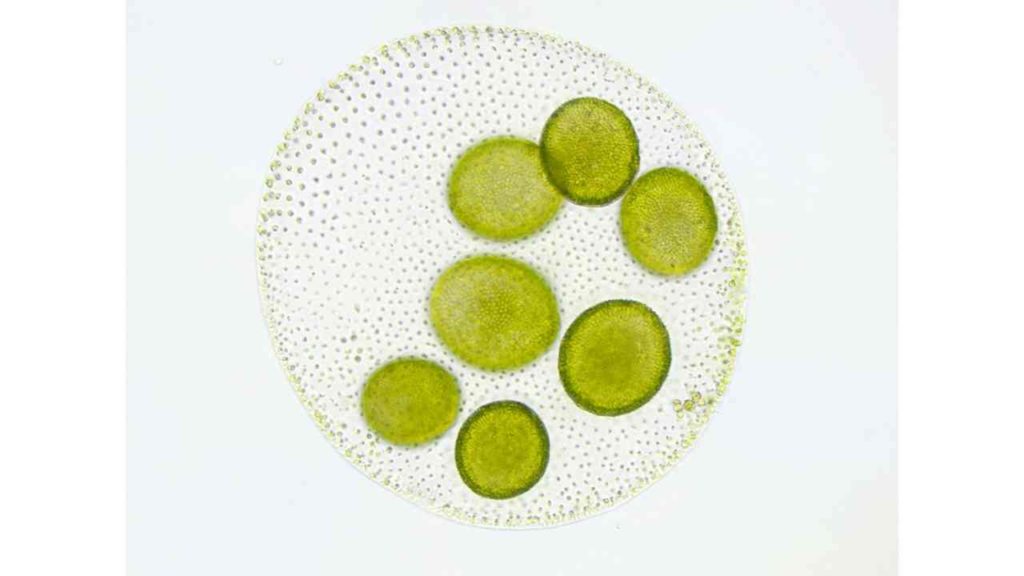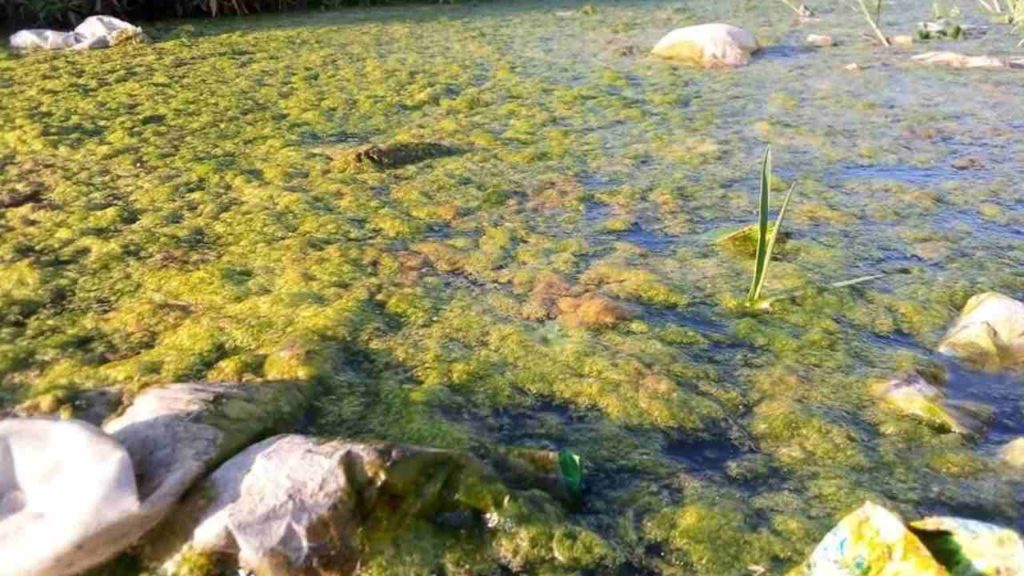 Volvox – Green Algae.
b. Class Phaeophyceae (Brown Algae):
They are multicellular seaweeds.
Characteristics:
1. They possess brown pigment (fucoxanthin) which masks their chlorophyll.
2. They are attached to rocks and other substances by a strong structure called holdfast.
3. The large plant-like part of the brown algae is called the thallus or frond.
4. Thallus includes the holdfast (anchor), stipe (supports the leaf-like blades), and leaf-like blades (for photosynthesis).
5. They do not have pyrenoids.
6. They reproduce asexually by spores or fragmentation and sexually by conjugation.
7. They show alternation of generation.
8. Some of the notable examples are Ectocarpus, Fucus, Kelps, and Sargassum.
9. They play an important role in marine environments both as food and for the habitats they form.
c. Class Rhodophyceae (Red Algae):
They are mostly aquatic marine.
Characteristics:
1. They contain phycoerythrin, a red pigment which reflects red light and absorbs blue light.
2. Reproduction is sexual e.g. Irish moss, or asexual by ordinary cell division or by fragmentation.
3. Most red algae are multicellular.
4. They are important in the building and maintaining of coral reefs.
5. They show alternation of generation.
6. Examples are Irish moss, Dulse, Laver (Nori), and Coralline algae.
Economic Importance of Algae:
1. They are used as food in Asia.
2. They are used as agar for culturing medium.
3. They are used in industries for making cosmetics polish and dying materials.
Thallophyta is a division that includes lichens and fungi. Lichens are associated between algae and fungi. They are greyish-green in colour. They appear as patches on the surface of trees. The fungus absorbs water and mineral salts while the algae carry out photosynthesis and manufacture food for both of them. The fungus also supports the algae.
Summary:

Thallophytes are plants that include algae, lichens, and fungus. They are found in moist and wet places and lack true roots and vascular tissues needed to transport water and minerals to all the parts of the plants. They are autotrophic.