Structures of Bacteria & Blue-Green Algae
The simplest living organisms, the bacteria and the blue-green algae belong to Kingdom Monera. Bacteria are found inside living organisms, water, air and soil while blue-green algae are found on land, mainly in fresh water and damp areas.
Bacteria are of great importance to mankind: Some are harmful while others may be useful to us.
Structure of Bacteria:
The structure of bacteria is known for its simple body design. The diagram below portrays the structures and features of a typical bacterial cell.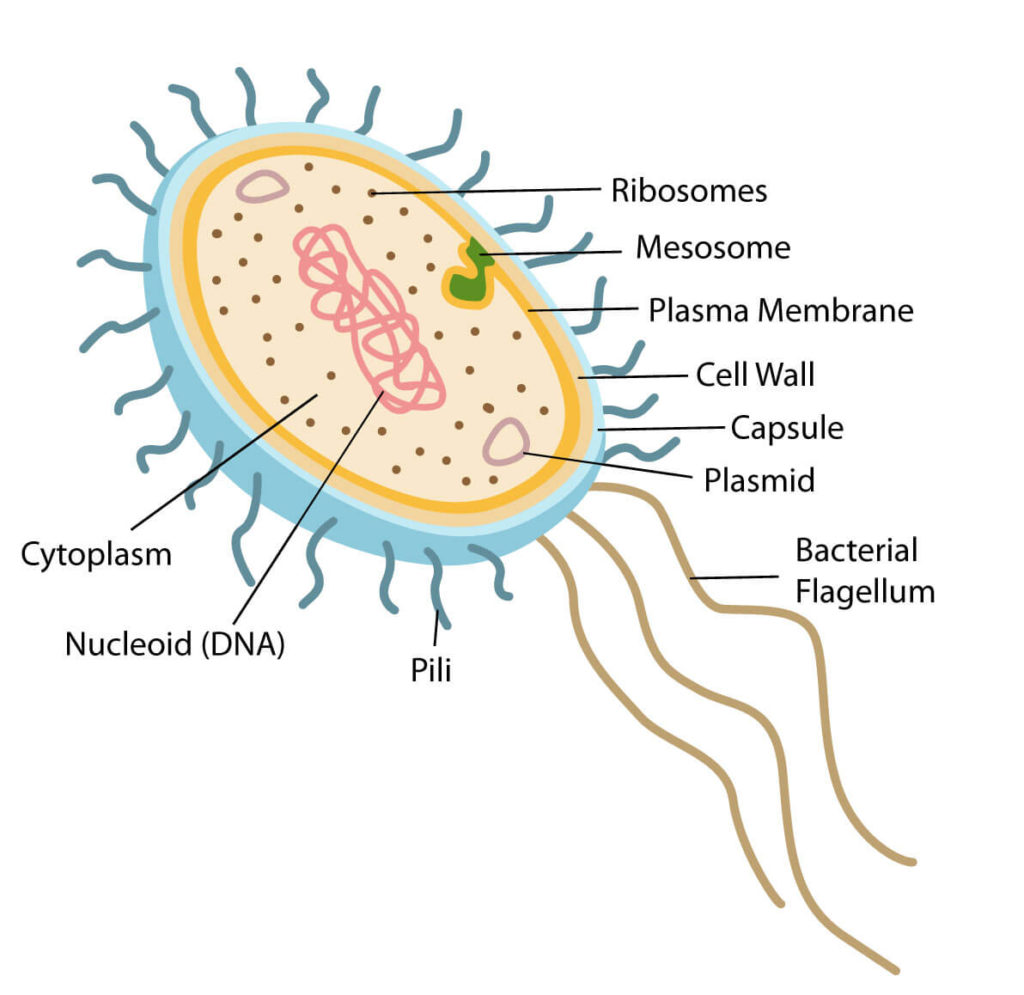 Capsule: Outside the cell wall is a thick slime layer, called a capsule. it is composed of polysaccharides and amino acids.
Cell Wall: All bacterial cells are protected by a strong, rigid cell wall which is inner to the capsule. They are therefore classified under plants. The cell wall consists mainly of peptidoglycan. Peptidoglycan is a polysaccharide consisting of sugars and amino acids
Plasma Membrane: The thin, elastic plasma membrane is situated just internal to the cell wall. The plasma membrane consists of both lipids and proteins and its function is to provide protection for the cell. It forms the boundary between the cell's contents and the outside of the cell.
Cytoplasm: The cytoplasm refers to a complex and aqueous fluid that consists of vitamins, salts, enzymes, carbohydrates, soluble proteins, co-enzymes, lipids, minerals and nucleic acids. This is the region where all major cellular reactions take place including cell growth, metabolism, and replication.
Nucleoid: Bacteria cells have a free-floating chromosome that is usually double helical as well as circular and is not enclosed in a nuclear membrane. Instead, the DNA (which is said to be naked) simply exists in a region of the cell called the nucleoid.
Plasmids: In addition to the normal DNA chromosomes, many bacteria (e.g. E.coli) have extrachromosomal genetic elements or DNA. These elements are plasmids. They are small circular double-stranded molecules.
Flagella: The flagellum serves as the locomotory organ. It helps bacteria swim about in the liquid medium.
Pili or Fimbriae: Besides flagella, some tiny or small hair-like outgrowths are present on the bacterial cell surface. These are pili. They comprise of pilin protein. The primary function of pili are to attach a bacterial cell to specific surfaces or to other cells.
Ribosomes: The function of a ribosome in any cell is to produce proteins. They, translate the genetic code from the molecular language of nucleic acid to that of amino acids, the building blocks of proteins.
Mesosomes: Mesosomes perform various functions. They help in cell wall formation, they participate in DNA replication. They also aid in the distribution of DNA to the daughter cells during cell division. They also help in the respiration process
Bacterial Shape: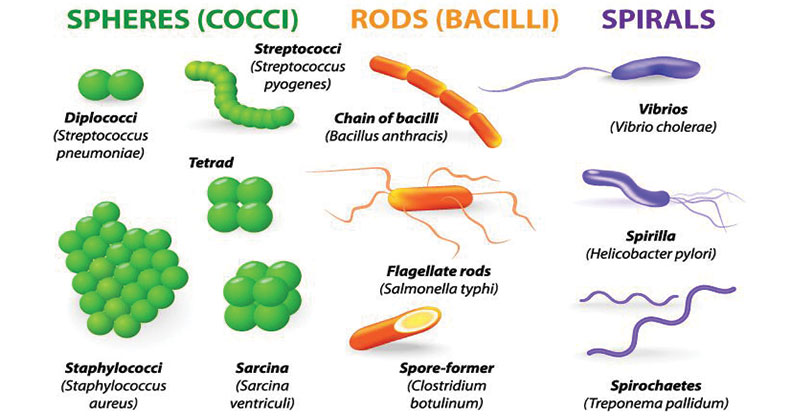 Bacteria are divided into classes according to their shapes. Bacteria possess the following different shapes:
i. Cocci: Bacteria are spherical or oval in shape. These can be micrococcus (single), diplococcus (in pairs), tetracoccus (in fours), streptococcus (in chains), and staphylococcus (in clusters like grapes)
ii. Bacilli: These are rod-shaped bacteria and they may or may not possess flagella.
iii. Vibrios: These are comma or kidney-shaped small bacteria and are also motile with flagella at one end.
iv. Spirillum: These are spiral or coiled shaped like a cock-screw. They possess two or more flagella at one or both ends and are rigid forms due to the spiral structure. e.g. Spirillum, Spirochaetes etc.
v. Filament: The body consists of small, minute-sized filaments similar to fungal mycelia.
vi. Stalked: The bacterium possesses a stalk.
vii. Budded: At different parts, the body of the bacterium is swollen.
Structure of Blue-green Algae:
Blue-green algae is a body composed of many thread-like structures, called filaments held together in slimy sheats. Each filament structure is composed of many rounded identical cells that are arranged in a chain-like manner. All the cell structures are similar. They can also exist as single cells.
They contain chlorophyll and can therefore produce their own food. The chlorophyll is not present in chloroplasts but dispersed as particles throughout the cytoplasm.
Examples of blue-green algae include Nostoc, Oscillatoria and Anabaena.