Diffusion is defined as the movement of molecules of a substance from a region of higher concentration to a region of lower concentration down a concentration gradient.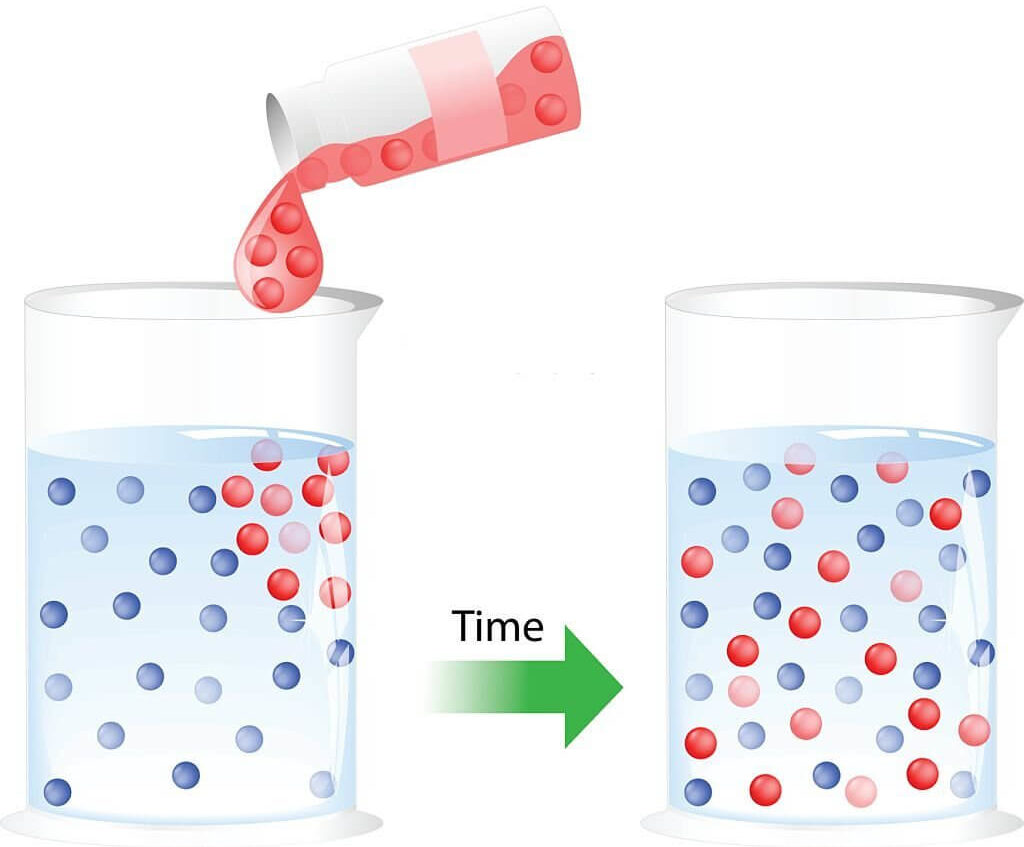 A concentration gradient occurs when the concentration of particles is higher in one area than in another.
Diffusion is an important process for living things; it is how substances move in and out of cells.
Rates of Diffusion:
The rates at which substances diffuse through a cell wall or cell membrane will depend on:
i. Temperature.
ii. Concentration.
iii. Distance
iv. Size of its molecules or ions.
v. The surface area across which the diffusion is occurring.
vi. State of matter.
Temperature:
Higher temperature increases the kinetic energy of the molecules. The higher the temperature, the faster the rate of diffusion.
Concentration Gradient:
The bigger the difference in the concentration of a substance on either side of a membrane, the faster it will tend to diffuse.
This difference is called diffusion gradient or concentration gradient.
Distance:
Plant cells vary in their thickness and permeability. However, cell membranes are usually of the same thickness (about 0.007 m).
Generally, the thicker the wall, the slower the rate of diffusion and vice versa.
Size of Molecules or Ions:
Generally, the smaller the molecular size, the faster the rate at which they diffuse.
However, it may not be possible to predict the rate of diffusion from the size of molecules/ ions alone because many molecules in solution attract water molecules, which increases their effective size.
Surface Area:
The rate of diffusion into a cell will depend on the cell's surface area, the wider the surface area, the faster the total diffusion.
State of Matter:
Diffusion varies with the various states of matter. The diffusion of gases is always faster than that of liquids because the molecules of gases are freer and loosely joined.
Activity:
To demonstrate diffusion in liquids;
1. Pour about 100cm3 of distilled water into a measuring cylinder. Leave it to settle.
2. Use a pipette to gently add a small quantity of potassium permanganate solution to the bottom of the measuring cylinder. Leave it to stand for a few minutes.
Result:
Eventually, the purple colour of Potassium Permanganate spreads throughout the water medium.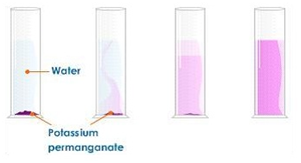 Interpretation:
The molecules of potassium permanganate moved from a region of higher concentration of the solute to a region of lower concentration of the solute until the molecules are evenly distributed by the process of diffusion.
Biological Significance of Diffusion:
1. The movement of gases between an organism and its surroundings, as in photosynthesis and respiration, are as a result of diffusion along a concentration gradient.
2. Transpiration involves the process of diffusion.
3. It is important in the distribution of food materials.
4. Helps in the elimination of waste.
5. Diffusion keeps the cell walls of the internal plant tissues moist.