Prior to the system of barter, each and every family and tribe was into primitive or subsistence farming and other activities to meet the needs of their immediate families. During this period the populations of people were small and relatively manageable with some degree of self-sufficiency.
People provided all they need such as food, clothes, or course from animal skins, built thatched houses or huts for shelter, woods were used as chairs, and mats made from raffia palm for beds. There was no form of exchange.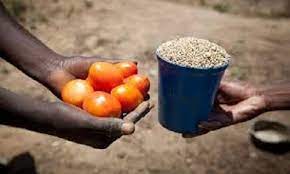 With the increase in population and the expansion of the level of economic activities, the primitive division of labour and specialization emerged in the sense that each family could no longer satisfy the needs of the members adequately. Hence, an exchange system was introduced which was termed trade by barter. This is a system where people exchange goods for goods and services for services. In Nigeria commerce started in form of a barter system where people gave out their excess goods for goods they did not have.
This continued while the slave trade was introduced by the Europeans. The barter system had gone beyond the people of Nigeria before the slave trade even between North Africa and Western Sudan which was regarded as Trans-Sahara Trade.
Essential items such as Salt, Cloth, Brass, firearms, vessels, etc were brought in by those traders. On their way back they exchanged their goods for gold, Kolanuts, hides, and skins, etc. Nigerians from Kano, Zaria, Bornu, and Katsina, etc. later got involved in the Trans-Sahara Trade.
Europeans got attracted to Nigeria to trade mainly in slaves and this contributed immensely to the increase of commercial activities. Later the face of commercial activities was changed by the Europeans who bought various articles such as books, weapons, clothes, and food consumable items to be exchanged for slaves and some agricultural products, for example, palm oil, palm kernel, cocoa, etc. Most of the trading centres then were located at Badagry, Bonny, Opobo, etc because of their nearness to the sea.
The tone of commerce in Nigeria was changed as a result of the abolition of the slave trade by the British government which was followed by the activities of the missionaries. The British government established companies such as Royal Nigerian Companies, the United Africa Company (UAC), and John Holt. These companies promoted the activities of production, distribution, and exchange in Nigeria.
The introduction of money as a medium of exchange brought tremendous development in commercial activities across the globe. Nigeria can now trade with other countries of the world without much difficulty, due to improved communication and transport system.
Individuals, companies, and the government alike can generate revenue and earn a living. With the introduction of technologies, commerce has transformed into electronic transactions in form of e-commerce and m-commerce which is a result of the modern development in commerce.
Today, some of the important commercial centres in Nigeria are Kano, Warri, Onitsha, Lagos, Ibadan, Portharcourt, etc.