What is Span of Control?
This deals with the number of subordinates that an executive can effectively manage. It also refers to the number of subordinates reporting to and controlled by a manager.
Span of control is the limit of functions, activities and personnel that a supervisor can effectively manage in a business organization.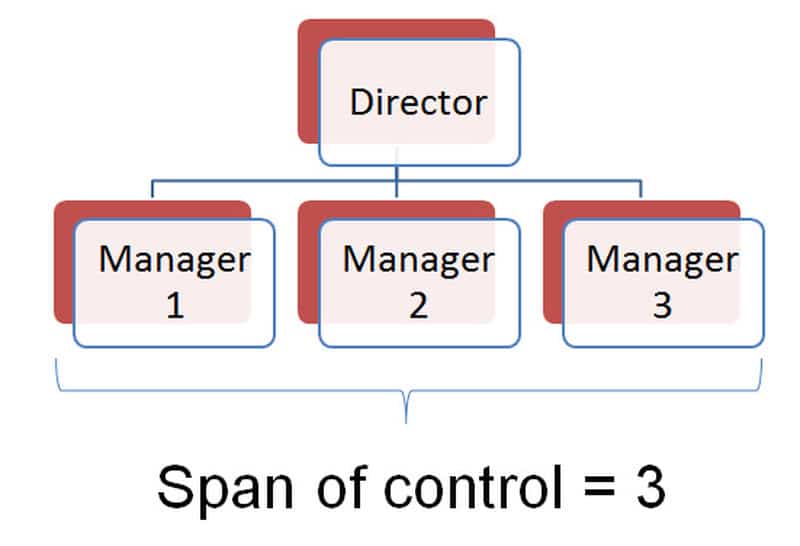 Factors that Determine Span of Control
(i) Training and experience of the manager: The training, ability, and experience of a manager to deal with emerging problems will determine the number of subordinates under his control. A well trained and highly experienced manager will control more subordinates.
(ii) Experience and training of subordinates: Subordinates with adequate skill experience and training require little or no supervision to carry out their assignments.
(iii) Size of the Organization: The size of the organization determines the number of subordinates that are to be supervised. The ratio of a subordinate to a manager in a large firm will be higher than in small firms.
(iv) Congruency of Goals: The interest of individuals is secondary to the corporate interest of the organization. A self-motivated subordinate who believes in the objectives of the organization can work without supervision.
(v) Geographical Location: It becomes easier to carry out supervision of people working together than people that are scattered.
(vi) The Nature of Work: Jobs of a receptive nature require less supervision and large number of subordinates. Complex jobs require more supervision and less number of subordinates.
(vii) Diversity of Work Done: The diversity of work done by the supervisor and subordinate can be used as the yardstick to determine the span of control.
(viii) Level of Relationship between Manager and Subordinates: The level of relationship between the manager and subordinates will determine span of control. Where the level of relationship is cordial, the manager can control and manage many subordinates.
(ix) Leadership Style of the Manager: The type of control a manager exhibits, his leadership styles, and the freedom of decision extended to his subordinate affects the number of subordinates he can effectively supervise.