Continuous Writing: Formal Letters – I
A formal letter is otherwise called an official letter. It is the letter you write to someone who occupies an official position in connection with his office. When you write to the principal or headmaster of a school, the editor of a newspaper, the commissioner for or minister of education, the secretary of a scholarship board, the chairman of your local government, or the politician representing your constituency in the house of assembly, you are writing a formal letter. Business letters are also formal letters. Thus, when you write the general manager or managing director of a company applying for a job or placing an order for the supply of some materials, you are writing a formal letter.
Formal Features:
The formal letter has the following features:
i. The Heading        
ii. The Inside Address           
iii. The Salutation
iv. The Title              
v. The Body     
vi. Complimentary Close
vii. Full Name of Writer
i. The Heading:
This comprises the writer's address and date. There are two types of heading, namely, the block heading and the slant (slanted) style.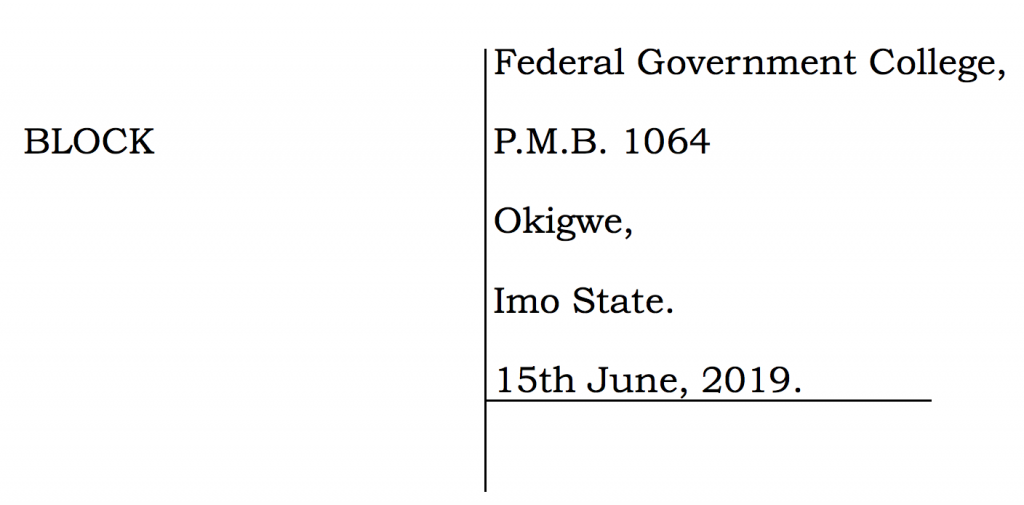 ii. The Inside Address:
This is the full address of your correspondent, that is the person you are writing to. The inside (receiver's) address should be written at the left-hand corner of the page, beginning from the margin. It should be written just below the last line of the heading.
Example
(a)

The Senior Deputy Registrar (HNO),
West African Examinations Council,
P.M.B. 1022,
Yaba,
Lagos.
(b)
The Proprietress,
Dority International School,
P.O. Box 5000,
Aba,
Abia State.
(c)
The Editor,
"The Guardian,"
P.M.B. 1017,
Oshodi,
Lagos.
(d)
The Managing Director,
Maney and Associates,
P.O. Box 130,
Bauchi,
Bauchi State.
iii. The Salutation:
Always use Dear Sir or Sir; Dear Madam or Ma (if the address is to a female)
iv. The Title:
An important part of the formal letter that is often omitted by many writers is the title. The title serves to summarize the content of a letter, showing at a quick glance, the subject matter.
A suitable title is never a sentence. The content of a letter can be better encapsulated in a word or phrase.
Examples:
a) A Holiday Programme for Youths
b) Stolen Items
c) Immunization
d) A Fight at the Beach
Avoid the common error of capitalizing all the words in your title. The acceptable practice is to begin each keyword in a title with a capital letter. Articles and prepositions are never capitalized, unless they begin the title. Remember to underline your title.
Individual Activity:
The last nationwide strike by secondary school teachers affected your school adversely. Write a letter to the Minister of Education, suggesting at least three ways of preventing future strike actions.
– WASSCE, June, 2001
References:
1. Oral English Without Tears by I Udoka.
2. New Oxford Secondary English Course for SSS2 by Ayo Banjo et al.
3. Certificate English Language by I. Udoka.