Illustration 5 – Account of Non-Trading Organizations
Illustration 5
The Receipts and Payments of Rangers Club are summarized below for the year 31st December 1995.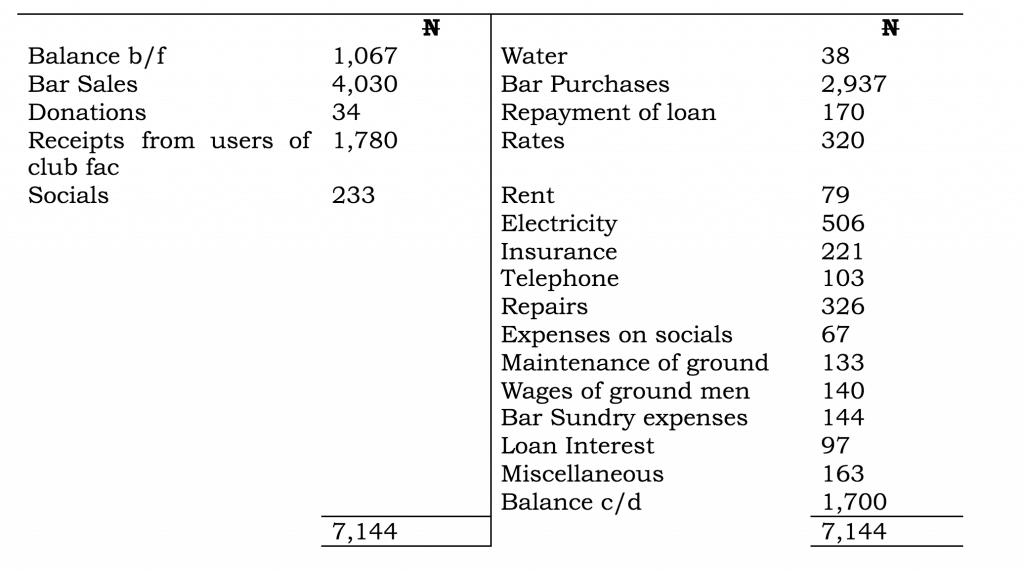 Additional Information
The value of Pavilion as of 1st January, 1995 was N13,698, Depreciation should be N498 for the year.
Required to prepare:
(a) Calculate the Accumulated fund
(b) Prepare bar trading account
(c) Income and expenditure
(d) Balance Sheet as at 31st December 1995.
Solution
Evaluation Questions
1. List four (4) items of Receipts and Payment, income and Expenditure Accounts
2. Prepare the Receipts and Payment Account
3. Prepare Income and Expenditure Account
4. Prepare the Balance Sheet.
Additional Information:
Five new members had not paid membership dues of Le 300 each for the year.
You are required to prepare for Boyson Social Club for the year ended 31/12/16:
Subscriptions Account
Bar Trading Account
Income and Expenditure Account for the year ended 31st December, 2016. WASSCE JUNE, 2018.
View Answer