Types of Organizational Structures
There are various types of organizational structures. Some of them are;
1. Line structure:
This is probably the oldest and simplest structure and it is applicable and suitable to small or medium-sized manufacturing enterprises. It is used to denote the direct line of authority and responsibility between each superior and subordinate. The flow of authority and responsibility is usually straight and accountability is easily established.
Advantages
(i) It is easy and simple to understand by all.
(ii) It enhances quick decision-making.
(iii) It makes clear division of authority
(iv) It is based on the principle of unity of command and scalar principle.
(v) Expenses related to overhead are reduced to a minimum.
(vi) It allows definite designation and delegation of authority and responsibility.
(vii) It is applicable to small and medium scale organizations
Disadvantages
(i) Specialists are neglected in planning
(ii) Top executives are overworked.
(iii) A manager is responsible for too many duties.
(iv) The manager may become authocratic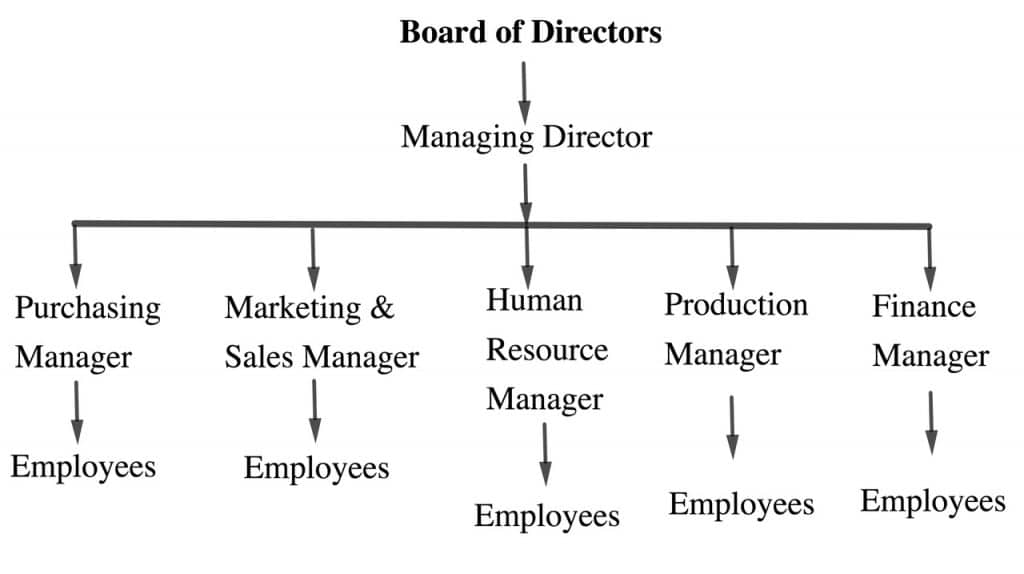 2. Functional Structures:
Under this structure, similar or related activities are grouped together under each department e.g production, marketing and finance. The finance manager has a functional duty for all the activities that deal with finance in all the various departments.
Advantages
(i) It follows the principle of occupational specialization.
(ii) It provides the framework for applying expert knowledge.
(iii) Functional organizational is best for small or medium sized.
(iv) Promotes skill development of employees.
(v) Co-ordination within functions is easy.
(vi) Functional design has the advantage of clarity. Everybody understands his own tasks.
Disadvantages
(i) It reduces co-ordination between functions.
(ii) Overspecializes and narrows view points of key personnel.
(iii) It limits the development of general manager.
(iv) It lacks a fixed line of authority.
(v) There is slow adaptation to changes in environment.
(vi) It de-emphasis overall company objectives.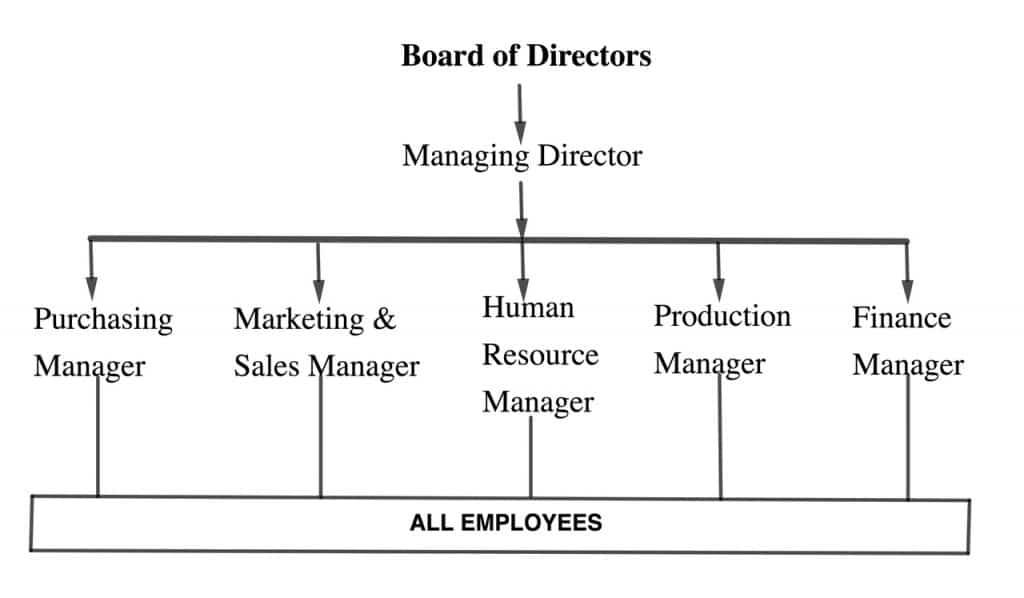 Evaluation Questions
What is organizational structure
Identify three types of organizational structure
Explain briefly a line structure in an organization
State five advantages of a line structure
(a) With an aid of a diagram, show a functional organization
(b) State three advantages and two disadvantages of a functional organization