How to Receive and Treat Visitors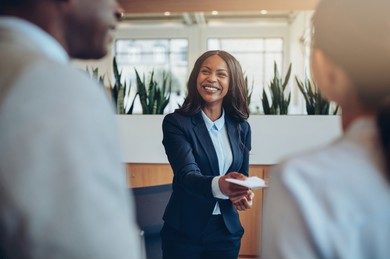 As the first contact person anyone meets within your organization, receptionists play an important role.Making a great first impression on visitors will speak well of the organization.
1. Greet: As soon as a visitor enters the office, approach them and greet them. Follow that greeting with a friendly "How may I help you?" Be attentive and listen to them.
2. Seat: Offer the visitor a seat in the reception area.
3. Treat: Offer the visitor snacks, tea, water, or a cold drink, and if they accept promptly bring it to them. You can also offer them a newspaper or magazine to read, while you let the officer they came to see, know their guest has arrived.Check in with the visitor if he or she is waiting for more than a few minutes, so he or she will not feel neglected.