Phylum Porifera (Sponges)
Porifera means organisms with holes. They compromise the simplest organisms and are commonly known as sponges.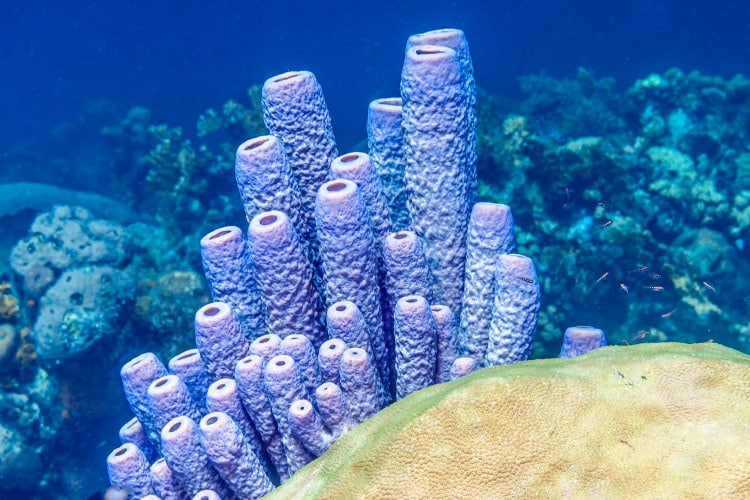 Characteristics of Phylum Porifera:
Below are some of the important characteristics of phylum Porifera;
1. They are aquatic organisms. Most of them live in marine habitats.
2. They are pore-bearing multicellular organisms with few tissues and no organs.
3. Cells and tissues are surrounded by a water-filled space. They lack a true body cavity. (Acoelomater)
4. All are sessile i.e. they live attached to rocks or shells as an adult.
5. They reproduce sexually (They are hermaphrodites i.e. both male and female sex cells are present in an individual) or asexually (by budding and fragmentation).
6. They have a distinct larval stage which is planktonic.
7. The nutrition is holozoic.
8. They have small pores all over their body known as Ostia. Its function is to draw water, along with desired nutrients into the interior of the sponges.
9. All are filter feeders. The animal feeds by drawing in water from outside through the pore cells (Ostia) and fitter food present in this water current. Water, flows out through the osculum, an opening at the top of the sponge. Digestion is intracellular.
10. The central cavity is called spongocoel or atrium which opens to the outside through the osculum.
What is Intracellular Digestion?
Intracellular digestion refers to digestion where food is directly taken into the cells and digested within the cell.
11. They have no nervous, circulatory, or digestive systems. (no organs)
12. Non-motile with a hard outer skeleton made up of spicules.
13. They do not have a definite symmetry (they are Asymmetrical) i.e. any plane passing through their body doesn't divide them into two equal halves. Some are radially symmetrical.
14. They exist in colonies.
15. They exist at the cellular level of the organization of life.
16. Examples are sponges: Agelas conifera, Aplysina cauliformis, Atergia sp, Halichondria panacea, Spongilla, and Calcispongiae (Calcareous Sponges).
Classification of Phylum Porifera:
Phylum Porifera is classified into three classes:
a. Class Calcarea. e.g Clathrina, Scypha, Calcareous sponge.
b. Class Hexactinellids e.g. Euplectella, Hyalonema.
c. Class Desmospongiae e.g. Spongilla, Agelas conifera, Aplysina cauliformis, Atergia sp, Halichondria panacea.